Hi,
I come here to present my new extension, and hopefully have it tolerated ingame !
Info: OgameLive allow you to display at every time your planets resources production, in realtime. More, you can see some interestings info as sum of availables resources, number of needed cargos and some extra informations in shipyard view. OgameLive is still in development, so there could be new features at any time, or you can find bugs you can report to me (please follow the support link). Enjoy !
Author: loclamor
Download:
Screenshots: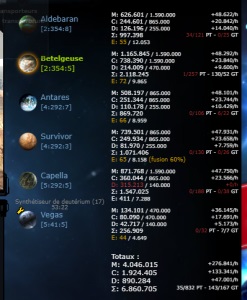 planets production.
Number of needed cargoes is display in front of the planet resources sum : PT is the french abbreviation for Petit Transporteur (Small Cargo) and GT is for Grand Transporteur (Large Cargo)
Current builds are also better displayed with the target level and the amount of remaining time.

red : missing resources (here 663k metal)
white : what you have in excess (490k crystal)
the sum : how many you need, how many you have missing).
Under, betwen parenthesis, the number of transporters the missing amount or excess amount it represent).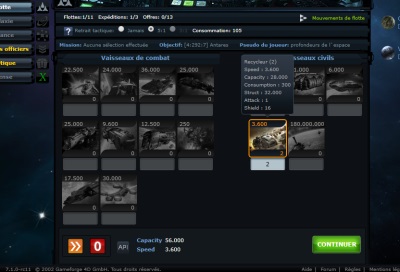 Ship details added in tooltip and ship speed displayed at top of ship picture.
The capacity of the selected fleet is also displayed in this screen with the minimum speed of all selected ships.
Browsers: Chrome, Firefox, Firefox android
Compability: Ogame V7, AGR, UniverseView
Languages: French only for now, but the extension does not add a lot of text !
Thank you and have fun using OgameLive !