Greetings Quantum!
I gauss RIO really wanted original war thread to be closed so they sent their lawyers in to get it closed. I wonder why, it seemed like things were working out just fine. Starting new war because they say previous one has to stay closed, I wonder who won it? Besides, what's the point, not like I am going to farm RIO less or anything. Anyway, lets use this thread for 2020 season war, participant details are below:

via Imgflip Meme Generator">
VS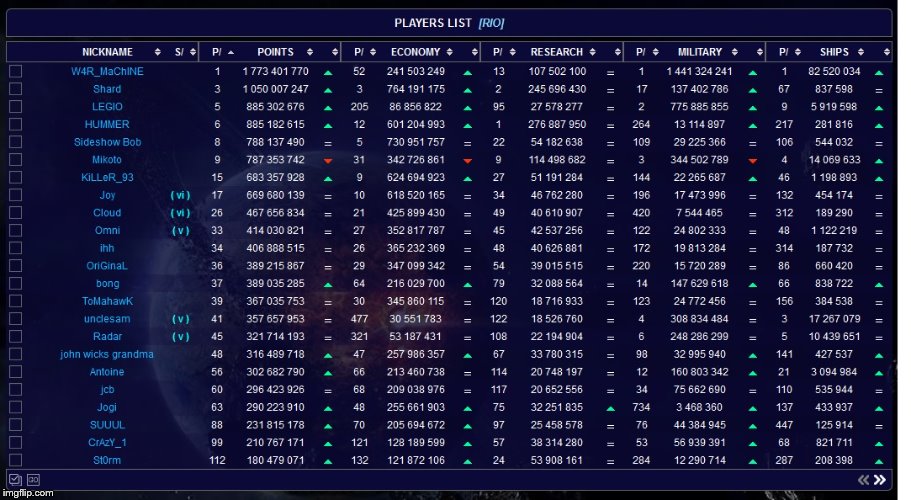 via Imgflip Meme Generator">
I won't be re-posting hit on Mikoto as deut boss's saw it in previous thread and I was told that I earned January's 1 billion deut from it, I should be receiving it this week. But donations that I get from my fans are also important, in December I received additional about 2-2.5 billion of cheap deut from Quantum people. So, those 50-100M transactions do add up. As far as I know, I am the only fleeter who actively hunts RIO and hits them every time I am out vmode. If you look at their planets near me, you'll find that most of them turn off mines and sell lamps because even if the hit is a wash, I am hitting it, profit comes from cheap deut trades. Last couple of months I delivered between 50 and 100 billion damage to RIO members. Their top fleets are hunting me which makes Quantum a little bit of safer place for the rest of you. So, if you got a little bit of deut, please trade it to me at 2:1:1 for mix, upgrade your deut mine with the res, this way its win-win for all of us and I keep the show going.
Until next time,
Cardinal
p.s. Almost forgot, war victory conditions: whichever party delivers more damage at the time when this thread is closed.
I meant to do this sooner, but the active war thread has been updated. ~Rav3n