Hi,
Let me share this with you : https://board.fr.ogame.gamefor…tID=11997610#post11997610 (scroll up)
I can't really said whether it is applicable to your servers or not, well, I assume it is.
You'll get a fairly good translation of it with Google, except as for technical terms (see the lexicon below). I hope that you'll be able to grasp the meaning of the documents attached as well, especially the spreadsheet. If not, go and learn French!
Or ask me, i'll be happy to help.
As a start :
métal : metal ;
cristal : crystal ;
deut : deuterium ;
pt : small cargo ;
gt : large cargo ;
clé : light fighter ;
clo : heavy fighter ;
cro : cruiser ;
éclaireur : pathfinder ;
vb : battleship ;
traq : battlecruiser ;
dd : destroyer ;
faucheur : reaper ;
edlm : death star.
Here's a recent update of the figures :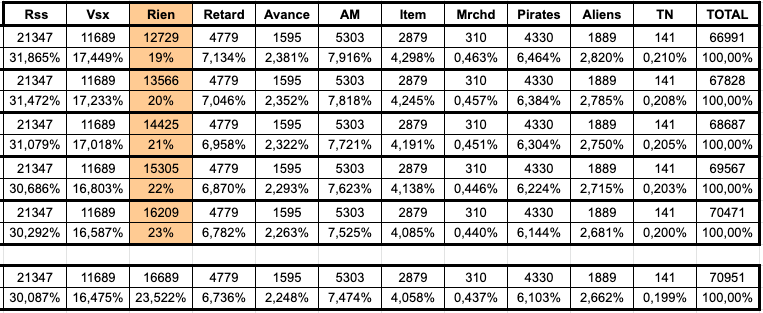 You'll get to know why there are so many lines in the table by reading the full document. In short, it is a very basic attempt to express the fact that some players aren't aware of solar systems depletion.
Lexicon :
rss : get ressources ;
vsx : bring back ships ;
rien : get nothing ;
retard : come back late ;
avance : come back early ;
AM : darkmatter ;
item : get an item ;
mrchd : get a merchant ;
pirates : fight pirates ;
aliens : fight aliens ;
TN : encounter a black hole.
Well, I think that's pretty much it. Have a good read!
DeepMiningInc You've written somewhere : "there are a total of four levels of depletion : no depletion, minimal depletion, medium depletion and maximal depletion." Where did you get that from?