What is AGRbot?
AGRbot is a Discord bot that you can invite to your own server, which then offers various features:
Automatic parsing of OGame API keys for quick sharing of spy reports and KBs.
Spio report APIs are read out and the report is issued by the AGRbot. In addition, a TrashSim link is created that contains your techs or the techs of the pinged player.
Battle report APIs are automatically uploaded to OGMem. By default on the OGMem account from AGRbot, optionally on your own OGMem account.
Calculation of chances of moon destruction.
Output from all universes, optionally filtered according to certain settings.
How do I get AGRbot on my server?
By clicking on the following link: Link
(You must be admin on the server to be able to invite AGRbot.)
How do the commands for AGRbot work?
The commands for AGRbot start with a ?. For example ?md, ?servers or ?uset-techs.
The prefix (the ?) can be changed by the admin of the Discord server using ?prefix <prefix>. ?prefix without further information outputs the current prefix for the server.
The ?help command outputs a list of all commands. You can get more information about a specific command using ?help <command>. E.g. ?help uset-techs.
Sometimes the same command can be called by different command names, such as ?userset-techs and ?uset-techs. These aliases can be found in the respective help entry.
With the command ?info you get general information about the bot and also a list of all commands.
What are the settings?
AGRbot can be configured on three levels:
at the user level
at the channel level
at the server level
User level:
Commands for settings at the user level either start with ?userset- or ?uset-. These can be set by any user and are settings that only affect the user.
?uset-techs: Sets the techs for a specific universe for the executing user. ? help userset-techs for more information.
Channel level:
Commands for settings at the channel level either start with ?chanset- or ?cset-. These can only be used by users who also have the right "Manage channels".
?cset-simlinks: With on or off the TrashSim links beneath parsed spy reports can be turned on or off for the channel.
?cset-verbosity: Here you can define how "deep" the spy reports should be displayed. Accepted values are resources, fleets, defense, buildings and research.
Server level:
Commands for settings at the server level start either with ?guildset- or ?gset-. These can only be used by users with admin rights.
?gset-lang: Sets the bot's output language for the server. Accepted values are DE and EN.
?gset-ogmemtoken: Sets the OGMem token for the server that is to uploading CRs. You can get a token in the respective OGMem account.
Questions & support
This thread can be used for questions and support inquiries, or you can also take a look at the AGR Discord.
Screenshots
Parsing spy report APIs: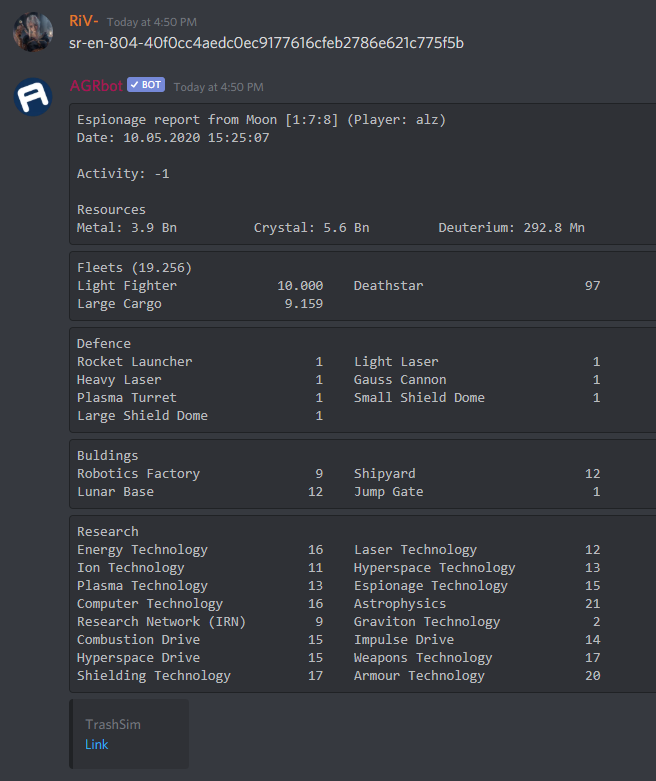 Chance of moon destruction: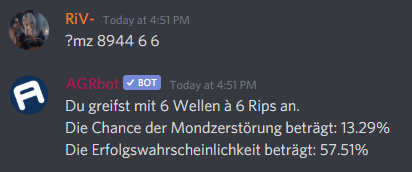 Filter options for universities: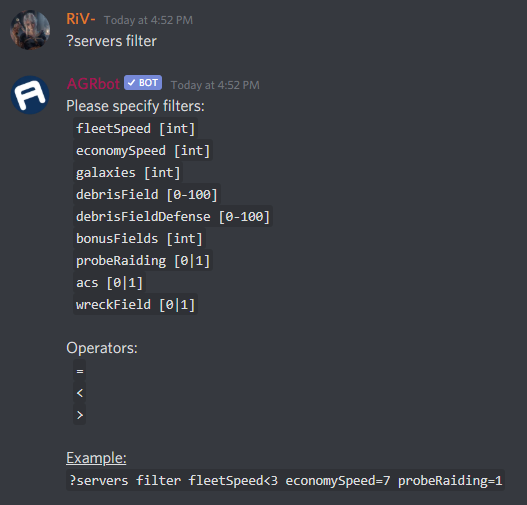 Universe search example: