Are you ready for Christmas?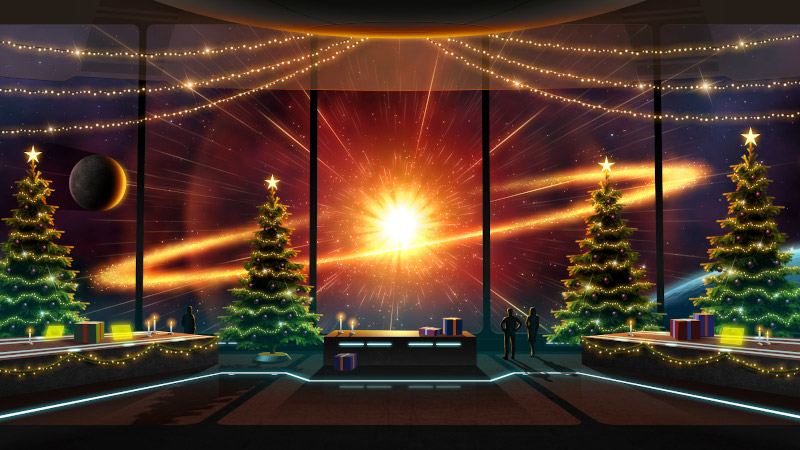 We are opening 7 temporary servers on Thursday the 16th of December at 14:00 CET!
They will be available for a full month and we will be running an event between the 16th and 30th of December!
These servers will open in the following languages: EN DE FR PL TR IT ES .
By creating an account in any of the event servers, you are already taking part in the event.
The server settings of all servers will be:
20x Economy Speed

40x Research Speed

5x Peaceful Fleet Speed

6x Holding Fleet Speed

5x War Fleet Speed

70% DF

50% Deuterium Consumption

30 Bonus Fields

Probe Storage ON
The rest of the settings will be standard.
The rules and Terms and Conditions for the game as well as the rules and Terms and Conditions for the event apply in all event servers.
Rewards:
Top 3 per server: 1 level up of a research/single building level of their choice
Top 1 to top 5 per server: 1 OGame mug, 1 OGame lanyard, commanding staff for 3 weeks, 1x €50 coupon to invest in the game
Top 6 to top 10 per server: 1 OGame mousepad, commanding staff for 3 weeks, 1x €25 coupon to invest in the game
Top 3 World Wide (only the best 3 accounts out of all servers) : 1x iPhone 13 Pro
3 random winners per server (a total of 21 people) : 1x €25 coupon to invest in the game
Event server rules:
The servers will be checked up regularly by a GameForge team.
All bans applied in this server will be permanent, which means the banned accounts will automatically be excluded from the server and the event running on it.
A ban will revoke the reward right directly if it is placed in a top winner account, leaving the reward to go into the next fair player in line in the top.
The research/building level up is only possible once per account.
We will not grant any research level above level 28, if the requested research level up is already 28, the winner must pick another research/building level up.
The winners' player names will be published in the forums and on OGame social media platforms from the 6th of January on.
The winners must respond to the contact mail they will receive by 13th of January at midnight, providing the data required to grant and send the rewards both ingame and through post. If the winners do not answer by that time, they forfeit the rewards.
Should a player achieve a winning rank in multiple servers, they will only receive one prize.
It is not possible to transfer the prize to another person.
Participants must be at least 18 years of age.
Festive Regards,
Your OGame Team
EDIT: 40x Research Speed missed from the settings, now added. ~Rav3n